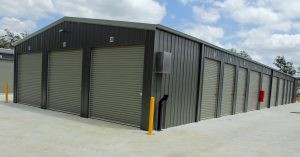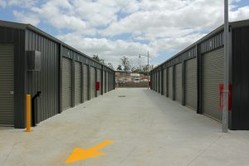 Baw Baw Self Storage is your key to self storage!
46 unit with 4 different sizes!
Family and independently owned, Baw Baw Self Storage is conveniently located at Drouin in Gippsland. Our facility is new and has kept the customer in mind with a fully sealed yard that is secured by an electronic gate with swipe card access. The secured premises are accessible 24 hours a day 7 days a week and by providing your own lock you will be the only able to access your unit. We have 24 hour CCTV and night time lighting. There is plenty of space to unload at your roller door or park within the facility.
Baw Baw Self Storage caters for all your needs whether it is for personal storage, business storage, excess stock storage, document storage or just some temporary storage that you need whilst moving or traveling the world!
Long term and short term leases are available, with the minimum storage lease being 1 month!
We provide free use of a courtesy trailer when you move-in!
Baw Baw Self Storage – your choice for Self Storage in Drouin and Gippsland
Please click on the below link for sizes
http://www.bawbawselfstorage.com.au/sizes-2/
Storage Guide
Plan your storage space.
Place those items that you need to access often in the front of the unit.
Leave a small space around the perimeter of your storage unit to aid circulation.
Look Up!, Utilise all of the space available to you, including the height.
Stack the lighter boxes on top of the heavier boxes.
Don't over-pack cartons or they will be too hard to lift.
If tables won't disassemble, place a mat or protective plastic on the ground and lay the tabletop face down on the floor with the legs pointing up.
Cover stuffed furniture with cardboard, blankets or plastic covers to protect against dust.
Don't place heavy or sharp objects on top of upholstered furniture.
Never lay paintings or mirrors flat. Ensure they are wrapped or placed in proper picture/mirror cartons.
To ensure safe storage: Do not store anything combustible (i.e. paint thinner, gasoline, solvents, paint, etc).
Do not store any living things (including plants), or perishable goods (especially foodstuffs).
Empty petrol from mowers, whipper snipers, etc.
Ensure gas bottles are empty and BBQ or cooking surfaces are clean.
What you can't store
You should not store any Goods that are:
hazardous
illegal
stolen
inflammable
explosive
environmentally harmful and perishable or that are a risk to the property of any person.
This includes items like petrol tins, paint thinner, full gas bottles or chlorine.